BATHROOM
10 Decorative ideas to create a (very) beautiful Bathroom!
Glass roof, wallpaper, graphic tiles or design objects, discover how to design a beautiful bathroom in 10 points.
Whether it's a bathroom in a small area or a beautiful luxury bathroom , the design of the bathroom during a development is a crucial step that is not an easy task . So to put the odds on your side, take a look at our 10 ideas for creating a beautiful bathroom .
Give pride of place to materials in the bathroom
This bathroom definitely gives pride of place to materials. Apparently cold, the backlit onyx vanity unit blends perfectly with the storage and the exposed wooden frame. A daring but terribly seductive contrast, which the black fittings come to stitch with great subtlety. The choice of bathroom accessories is also far from trivial: tinged with black, discreet but practical, they find their place without attracting the eye.
Accumulate designer objects for a beautiful contemporary bathroom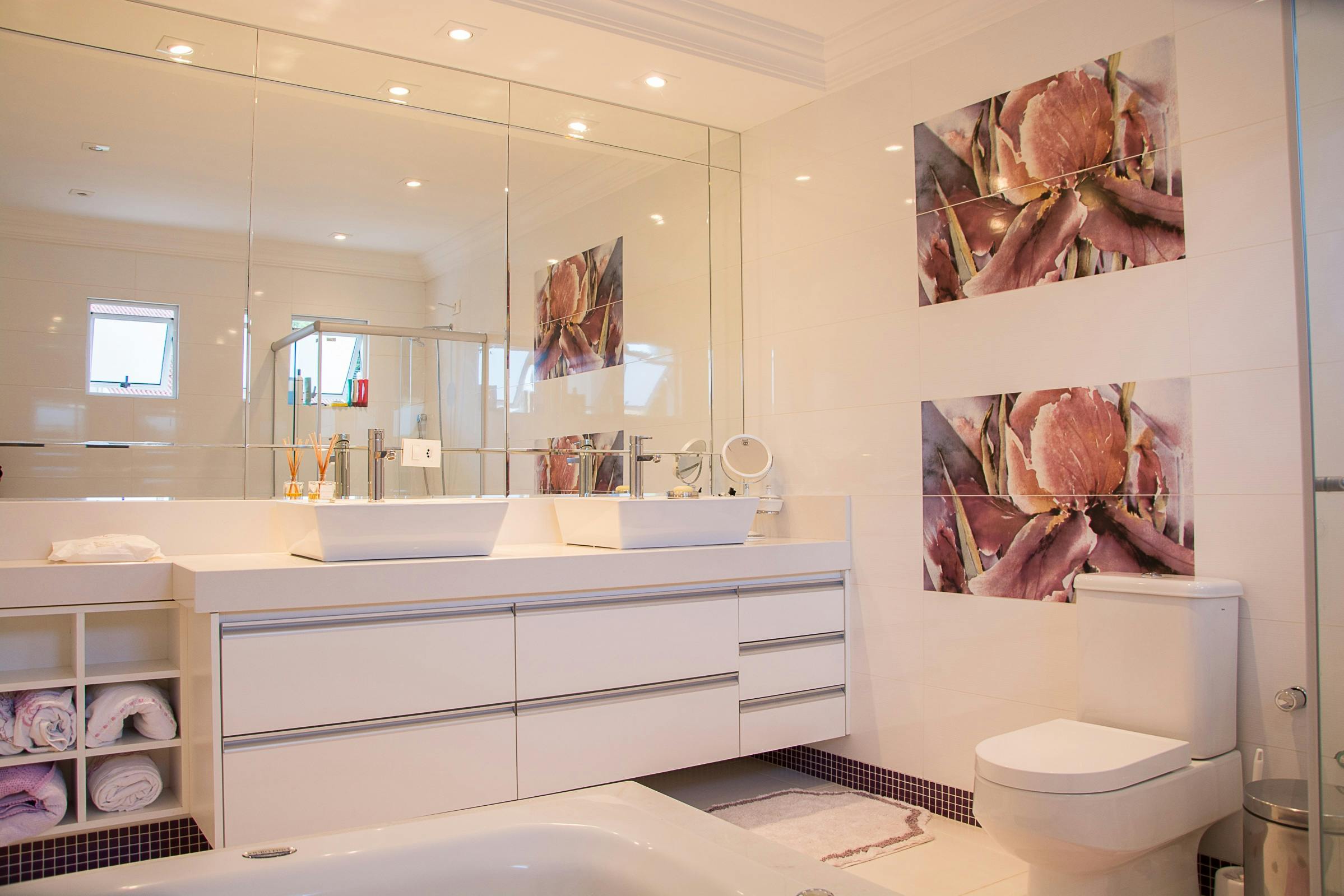 Entirely designed as a space for relaxation, this exceptionally large bathroom has a heathered daybed, an unusual bathtub and a multitude of objects all ready to perfect the decoration. Original coat rack, graphic pendant light, signed photograph and unstructured storage unit, all on a polished concrete floor, this bathroom is an inexhaustible source of inspiration for all design enthusiasts.
Hanging frames in the bathroom
This old-fashioned bathroom plays with originality with its paper lamps and its original bathtub, which has just been stripped to emphasize its authenticity. In addition to these decorative advantages that make the difference, this beautiful bathroom plays with the walls. Here, the base has been painted to reveal the moldings while it is overlooked by an accumulation of black and white photographs captured by Youssef Maged .
Bet on a glass roof for a beautiful modern bathroom
In this modern bathroom, the glass roof seems to be the perfect ally. To partition and delimit while letting the sun's rays infiltrate, panels in metal locks and frosted glass frame the spacious walk-in shower with a definitively industrial style. The black side table placed near the bathtub echoes the metal structure of the glass roof. Simple, effective and unadorned.
Abuse of minimalist style for a beautiful Zen bathroom
This bathroom is immaculately white to the polished concrete floor inlaid with Carrara marble tiles. In addition, the  rectangular bathtub  subtly emphasizes the window which offers a breathtaking view of the outside landscape. The right idea? Create a break with ambient minimalism by incorporating a raw wood stool for a more natural note. This is a practical and decorative tip.
Multiply the decorative keys
Exemplary in decoration, this bathroom combines the good points as it brilliantly combines patterns and materials. The basin in polished white marble and the graphic cement tiles are underlined by a subtle oak arch which itself contains the main mirror . Another mirror placed under the basins reflects the patterns and offers a sensation of ultra-appreciable space.
Put wallpaper in the bathroom
Richly decorated, this bathroom gives pride of place to the seabed. With this wallpaper with a blue background delicately lit with touches of gold and orange up to the ceiling, these deep blue tiles which line the bathtub, this porthole-style mirror and this towel warmer inspired by boat fittings, this room of water sounds like an iodized invitation. Only the white of the vanity unit and the slight border counterbalances the total blue look.
Mix styles and eras
Here, this pretty bathroom displays a style between two eras: the white piece of furniture with a modern look contains two basins and two shelves. The latter house storage boxes and orange napkins whose perfectly vintage color echoes the turquoise blue of the graphic cement tiles. Two vintage-style mirrors with different shapes are placed above the basins, creating a beautiful effect of symmetry.
Lay out graphic tiles in the bathroom
Absolute tranquility in this bathroom, which is fully covered with tiles in neutral and soothing colors, oscillating between cream and pale yellow. Clean and graphic lines, the  freestanding bathtub seems to float on this covering which extends from floor to ceiling. Without false notes, this bathroom immediately creates a soft and delicate atmosphere, conducive to relaxation. While the mirrors placed opposite each other reflect the light and offer new perspectives.
Install the bathroom under the roof
In this beautiful attic bathroom , there is a minimalist decoration to relax in peace. On the program: a huge Corian bath like a large pebble placed on a gray marble floor which gives character to the entirely white place. On one side, small wicker baskets line up to punctuate the room and give the place an ultra-soothing natural atmosphere. Result? A large, refined but not without charm bathroom.